Holidays in Italy from 02. – 09.09.2018
In contrast to the rather spontaneous Short-term holiday in Cavallino this holiday had been planned and booked long before – like the years before.
Unlike the years before, this time we left early in the morning to arrive in Bibione on time for breakfast.
Although we could only move into our mobile home in the afternoon, we know our way around the area and were able to bridge the time until we moved in.
All photos from the September holiday in Italy are in this album.
Around 9:00 we reached the Piazzale Zenith.
Without a concrete goal we made our way to one of the beach bars and immediately chose the first bar: the "Lilly Bar".
Vanilla doughnuts and species overlooking the beach
After a walk through the pedestrian zone we finally made our way to our final destination.
Unfortunately we still could not move into our mobile home.
However, we had already packed a separate bag with our bathing clothes at home and could enjoy the late summer weather unhindered.
On the occasion of our anniversary I had already ordered a little something for the evening a few days before from home in our favourite restaurant in Pineda – the Ristorante Pizzeria Acapulco:
I had asked to arrange a special table decoration.
At this point once again a huge "thank you" to all involved 😉
Day 2: Relaxation & Cocktail night – Monday, 03.09.

Apart from the necessary weekly shopping in Bibione, this day was a day without any special incidents.
In the evening we ended the day with a relaxing cocktail or two;
Day 3: Evening in Bibione – Tuesday, 04.09.

On Tuesdays the weekly market traditionally takes place in Bibione. Of course, a short visit is not missing here.
The fish market also takes place on Tuesdays, Fridays and Saturdays. What could be more obvious than getting fresh fish for lunch? Without really having a clue, we looked around the fish market.
Finally we packed a small salmon fillet, scampi and some shrimps (yes, there is a big difference!).
Thus everything was available for lunch – most likely…
Unfortunately we had to find out that there were no grill tongs.
Despite siesta we found a shop where we found at least one noodle tongs – grill tongs were probably already sold out.
We also bought some aluminium bowls to prevent the salmon fillet from burning.
Despite the aluminium shells the salmon still had to suffer: In a hurry I had forgotten to grease the bowl before the salmon went on the grill…

originally a salmon fillet – now rather a massacre fresh from the grill…
Of course all the small breakdowns had no negative effect on the afternoon at the beach.
After a relaxing sunbath on the beach we had a nice evening in Bibione.
Day 4: Sunset at the harbour – Wednesday, 05.09.
Also on this day nothing really exciting happened – except the sunset at the harbour of Pineda, which is also traditional in the meantime.
In the evening we made ourselves comfortable again in the bar "Laguna Beach".

Funfact about this photo: Meanwhile even the official Instagram accounts of "Aperol Spritz France" and "Aperol USA" have become aware of this photo 😀 Unfortunately there is no cooperation (yet) 😀 #noplacement
Day 5: Venice? – Thursday, 06.09.

As the partial heading already suggests, we actually wanted to go to Venice on this day.
According to the map service, we needed about 30 minutes to get to the nearby train station in Latisana. To be on the safe side, we started from 45min and also left even earlier. Unfortunately we were slowed down by several "traffic obstacles" and a lot of oncoming traffic. In addition, we got a parking lot in front of the station last time without any problems – but this time it was unfortunately overcrowded. Also the surrounding alternative parking lots. From an earlier trip to Venice I knew about a gravel parking place behind the station – but this trip was more than 15 years ago. Thus, it was not sure if this parking place still exists. Nevertheless, we dared to go there and found a parking place without any problems. In the meantime, our time cushion was completely used up and so we could watch our train from the parking lot during the entry….
The next train would have left at 12:30 in Latisana. One of the few trains on the day, which drive only 2h later. Normally the trains run every hour in the direction of Venice. This is of course clearly too late for a one-hour trip to Venice.
So we went back again – at least that's what my girlfriend thought. Inside, however, I had already decided that we would go to Caorle instead. After all, we also had Caorle as a potential destination in mind.
So a day trip to Venice turned into a sunny stay in Caorle.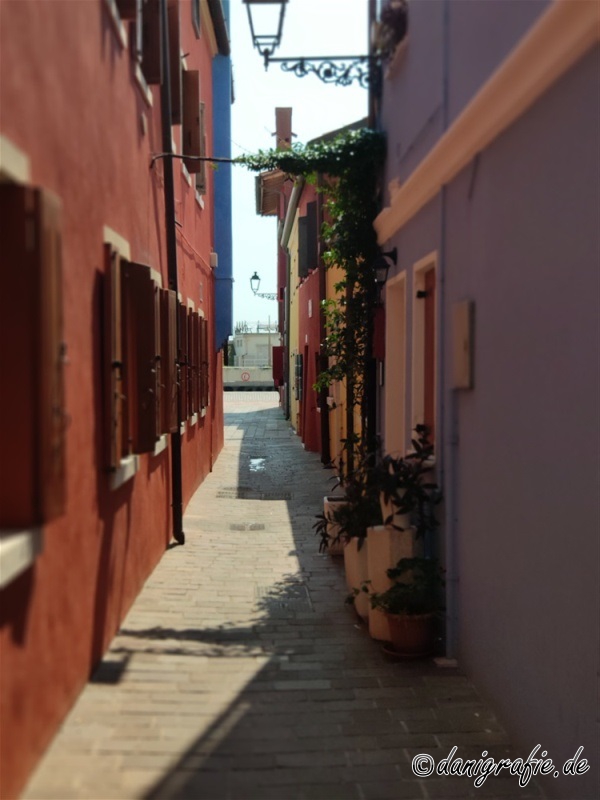 A narrow alley in Ven… äh Caorle
Thus the day which was a little disappointed at the beginning has come to a positive end.
Day 6: Venice! – Friday, 07.09.

New day, new attempt: for today we had planned the trip to Venice again.
But one hour earlier, in case we wouldn't reach the train again. But this time everything went smoothly and so we reached the station in Venice around 10:30 – unfortunately in pouring rain. Quickly we bought the day tickets for the vaporetti and went to the jetty.
Since we had already visited the classical tourist destinations on the main island during our last visits, we decided this time for the glass island Murano. After a short information day in one of the numerous glassworks we had a look around the shop.
Unfortunately, there was no photography in the shop, so that I could only take one photo before there was trouble.
After our stay in the glassworks we explored the island on our own. The persistent rain made the exploration tour a little "exhausting" despite the umbrella. Nevertheless it was interesting to see what it looks like on the island off the "tourist routes".
Meanwhile it was noon and so we looked around for a restaurant. Already after a short search we found what we were looking for.
In the meantime the rain has stopped and after a short time the sun has prevailed.

"inverted" rainbow with color gradient from UV (ultraviolet) to IR (infrared)
Since unfortunately the rain clouds came up again and the shoes were soaked, we drove with the next possible vaporetto in the direction of Markusplatz. There we had the possibility to stroll around a bit and didn't have it too far back to the station.
Of course, we were mainly away from the main tourist routes again.
But at the Rialto bridge we had to stop for a short photo, because it was uncovered for the first time when we were in Venice.
With this photo our day trip ended in Venice and we made ourselves on the way to the station "Venezia Santa Lucia" and finally back to our camping site.
Day 7: Last evening in Bibione – Saturday, 08.09.

Before you know it, the long-awaited holiday is coming to an end.
Therefore the last full day had to be used relaxed. Apart from a "souvenir shopping" and a last evening in Bibione, nothing else worth mentioning happened on this day.

roundabout at the "Bibione Thermae" in the last sunlight
Day 8: Arrivederci! – Sunday, 09.09.
With this farewell photo from Pineda our summer vacation ended and so did this blog.
It will be interesting to see where the journey 2019 will lead. 😉
Just because you've been on holiday in the same place for over 25 years doesn't automatically mean that you already know and have seen everything. 😉
A bold look beyond your own nose opens up new horizons.