A sunny Saturday at the beautiful Chiemsee, 21.04.2018
After a long break, there is finally something to report again. 😀
Very spontaneously, I started a short photo trip to Chiemsee with a friend.
Although we could not start before the late afternoon, the time was more than enough.
Since this little trip was very spontaneous, we had no ideas for any photo spots prepared.
We had a rough idea, but this area was almost unknown to us.
So the only way was to start driving and look for interesting spots.
Prien am Chiemsee
At the beginning we tried it on the coast in Prien.
However, the spots we found were not very inspiring.
Either the parking fees were horrendous, the coast hardly accessible, or simply no suitable motives available.
the better choice: Rimsting
We started the navigation app and found a new potential destination: Rimsting.
The place is located not far from Prien, so we arrived after a short time at the parking lot behind the sports home.
The "VIP Strandcafe" is currently in new building.
On a gravel path we reached the end of the land tongue, which protrudes in the northwestern part of Lake Chiemsee.
At the same time, this headland forms on the one side the estuary of the Prien in the Chiemsee.
And on the other side, the land tongue also serves as a lido and dock for various boats.

A sailboat through some branches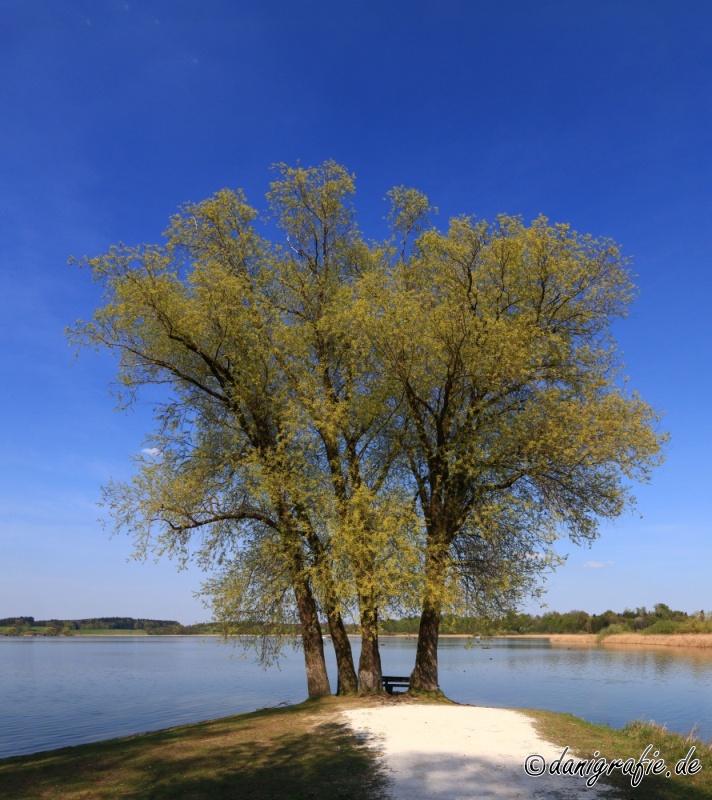 We've spent 1.5hrs at the lido ere we drove back towards the highway.
On the way back to the parking lot we discovered a swan
Auf dem Rückweg zum Parkplatz kam uns dann noch ein Schwan unter, which majestically swam its rounds.

Hittenkirchen
Last but not least, Hittenkirchen was recommended to us.
The village is elevated on a hill from which there is an amazing view on the Chiemsee.
For a long time I was finally able to use my copter again and take a few pictures.

View on the western coast of the Chiemsee
Unfortunately, it was not too clear that day, so the view was not that far as it could be.
Of course I took a photo of Hittenkirchen with the copter.