National park Berchtesgaden, 29.01.2023
Berchtesgaden National Park is worth a visit 365 days a year.
Whether in summer for hiking and enjoying the numerous streams, or in winter for snow hiking and watching the red deer feed.
Change of plan
Actually, sledging was on the agenda for this day. But then we had to change our plans spontaneously. A quick glance at the webcam and the destination was clear: we decided to head for Berchtesgaden National Park. Snow, blue sky, sunshine – what more could you want?
When we arrived at the hikers' car park, we were surprised that it was practically empty – and that in the hiking weather par excellence. Maybe some of us were put off by the freezing temperatures of -11 °C. After a hearty snack in the car, we made our way to the deer reserve. In the breathtaking winter landscape, the walk to the deer reserve naturally took much longer than expected. Of course, we took the opportunity to pack our cameras. There were also many new things for our little ones to discover. Although it was already well past 11 am, the sun had not yet made it over the mountains. We had to hike in the shade for the first part.
Of course, the toboggan was with us, so that our offspring could also do a bit of tobogganing – even if only mostly pulled by us.
When we arrived at the deer reserve, there were no deer or roe deer to be seen. It was also not obvious when the feedings by the foresters would take place.
After another snack break in the best midday sun, we hiked on to return again later, hoping for better luck with feeding.
A new attempt – this time with more success?
About an hour later we returned to the deer enclosure – and then we finally saw them!
Deer and stags had gathered everywhere. Some were busy at the feeding troughs, others were fighting small battles. Still others were obviously enjoying the warming sun.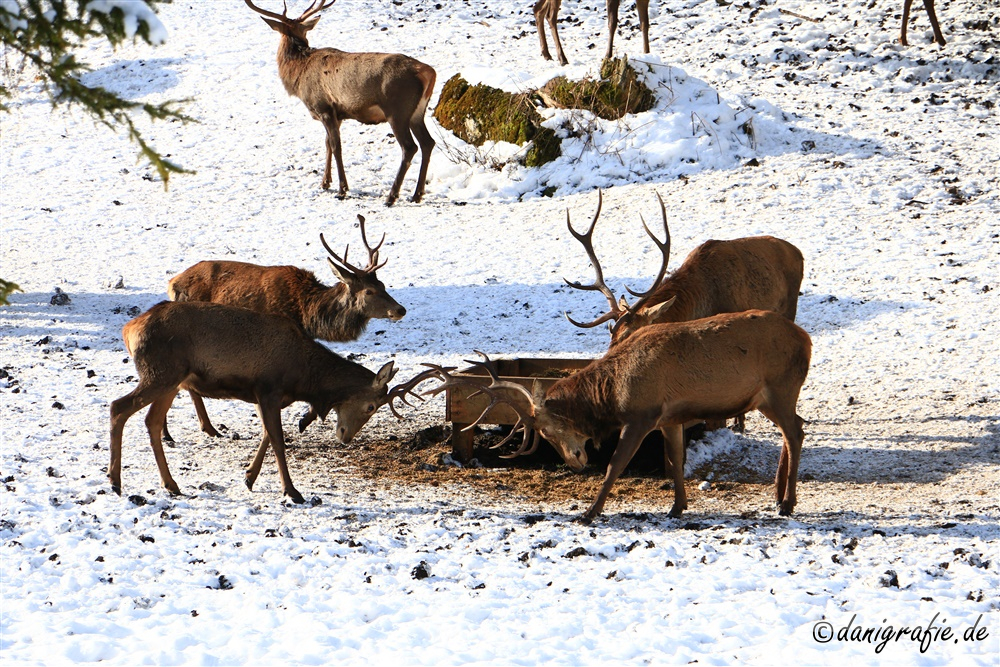 … And who didn't notice all the spectacle?
Exactly: our little adventurer, who had taken the exit into slumberland shortly before reaching the enclosure.
After more than 4 hours of outdoor adventure, we returned to the hikers' car park and home.
Only a selection of photos is included in this post.
All photos from our day in Berchtesgaden National Park are in the gallery to click through.
On my Instagram profile there is also irregular new content. If you are interested, please subscribe – I would be very happy!