Holidays at Crete from 31 May to 07 June 2019
At the beginning of April we decided to try out a new destination: Greece – Crete to be precise.
In contrast to our previous vacations (half board or overnight stay only), this time we had deliberately opted for all-inclusive.
Neither my girlfriend nor I had taken this kind of vacation before. Since we did not know the area and did not want to rent a car, we opted for a hotel vacation.
We were lucky enough to be able to fly from Salzburg. This meant quite a short journey for us. Nevertheless, we had to make our way to the airport already around 2:30 in the morning, because the flight started already at 6:00. This was the first possible scheduled flight from Salzburg to Heraklion on Crete in the 2019 season.
Those who are only interested in the photos can again take the shortcut to the complete album of this vacation 😉
For everyone else, here's where the text continues. 😀
Day 1: Arrival – Friday, May 31, 2019

As mentioned at the beginning, we had to leave for the airport around 2:30 at home in order to have a time cushion in case of any incidents. Fortunately, however, everything went smoothly, so that we could leave the Salzburg airport on time at 6:00 in the rising morning sun.

Hangar 8 (left) and Hangar 7 (right) with the Gaisberg and the rising morning sun in the background.
After about 2,5h flight time we reached the airport Heraklion on Crete at a temperature of 30°C outside.

On approach to Heraklion Airport.
For a "tourist airport", the airport building looks a bit outdated and "retarded" to me. Also the signage – if available – was not always quite clear and purposeful. Fortunately, we had some experienced tourists with us, to which we have attached ourselves without further ado. 😀 On the airport forecourt we found then umpteen Infopoints of the most diverse travel offerers. Unfortunately, we had no information in advance, to which Infopoint we must turn. After a few minutes of wandering haphazardly, we finally found the right info point of our tour operator. Here our transfer by cab to the hotel was organized within a very short time. After about 30min driving time we reached our hotel complex with a direct view of the Mediterranean Sea.
Since our room was not yet ready for occupancy, we had to kill time somehow in the hotel lobby and on the grounds. This was the opportunity to get a little familiar with the hotel grounds already.
Shortly before lunch, we were able to check into our room and then immediately settle down at the buffet. We had not eaten since 5:30 in the morning. After said lunch and a short breather in the room, we set out to discover the village.
Our hotel was again – deliberately – booked in a not (yet) too touristy area. One or the other of you may have already noticed that we usually vacation in more remote places. See for example in Croatia (Posedarje, Tribunj) or Italy (Sirmione, Cavallino, Cervia). On the one hand, it is of course a question of money, but on the other hand, in such smaller places is predominantly still the "traditional flair" and not adapted to mass tourism. For example, we found some classic taverns and beach bars, but also small food and souvenir stores.
Our exploration tour we had then briefly interrupted for dinner. Afterwards we went to one of the beach bars.
Day 2: First full day – Saturday, June 01

A little earlier than we had hoped, the night ended after the long and tiring previous day. Our room and balcony were oriented to the east. We had so on the one hand morning sun. But on the other hand, the room also heated up incredibly quickly, so that it was almost uncomfortably stuffy. We did have an air conditioner, but it had a life of its own, since it turned off again within a few seconds (although the temperature was set to 16°C as a test). But since we didn't want to spend the whole day sleeping anyway, this circumstance came in handy.
First we had a relaxed breakfast with a view of the hotel grounds and the adjacent sea.
The time until the afternoon was bridged with card games and lunch. Of course, every opportunity was used and time spent on the beach. After all, that was one of the main reasons for our vacation: 😀 Pool or swimming pool I can also have at home. Since I do not have to fly for hours for expensive money.
Fortunately, it was a little cloudy in the afternoon, so that the sun could not unfold its effect quite so intensively. But to avoid the great midday heat we are always in the early afternoon on the beach.
We then ended the day in the hotel's own bar. Some cocktails and red and white wine were also included 😉
Day 3: Evening stroll on the boardwalk – Sunday, June 02

Nothing changed in our "morning routine" for the rest of the vacation: in the morning for breakfast, comfortably enjoying free drinks and pizza, playing cards and in the early afternoon to the lunch buffet.
Today, however, we played a few rounds of Mariokart on the Switch for a change.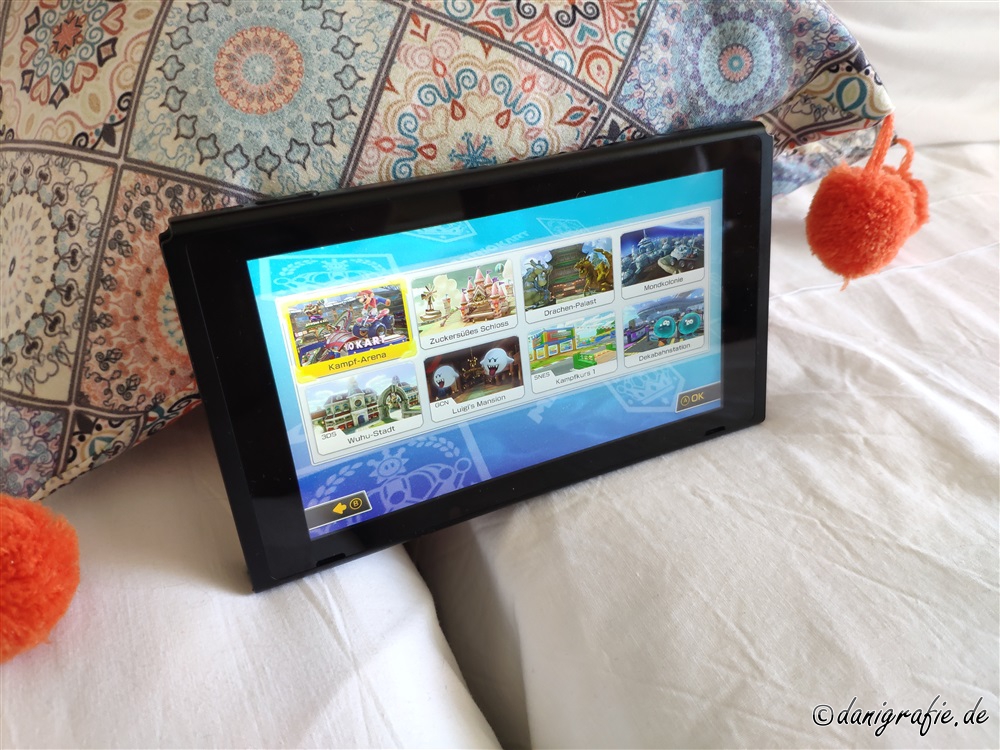 We spent the afternoon on the beach again in keeping with our status. After dinner, we went again to our village, where I took a few long shots with my phone. For cell phone photos I am still thrilled by the quality. Of course, the SLR was also there for the backup.
Cats seem to be omnipresent in our place – or on Crete in general. In a "front yard" at times up to 8 cats were romping around. It did not give the impression that these were stray cats, because they were never scared away and could be undisturbed.
Day 4: Greek Evening at the Hotel – Monday, June 03

A special feature of this evening was a Greek evening with a sumptuous buffet and traditional music and dances. This event was not included in the price – but the expense contribution was kept within limits. If we had gone to a traditional Greek taverna for dinner instead, we would have had to pay more.
But before the event took place, we had of course made ourselves comfortable again on the beach. I had of course also my underwater camera with me. Already on the previous days I had them with me. However, the photos were not really usable due to a wrong setting….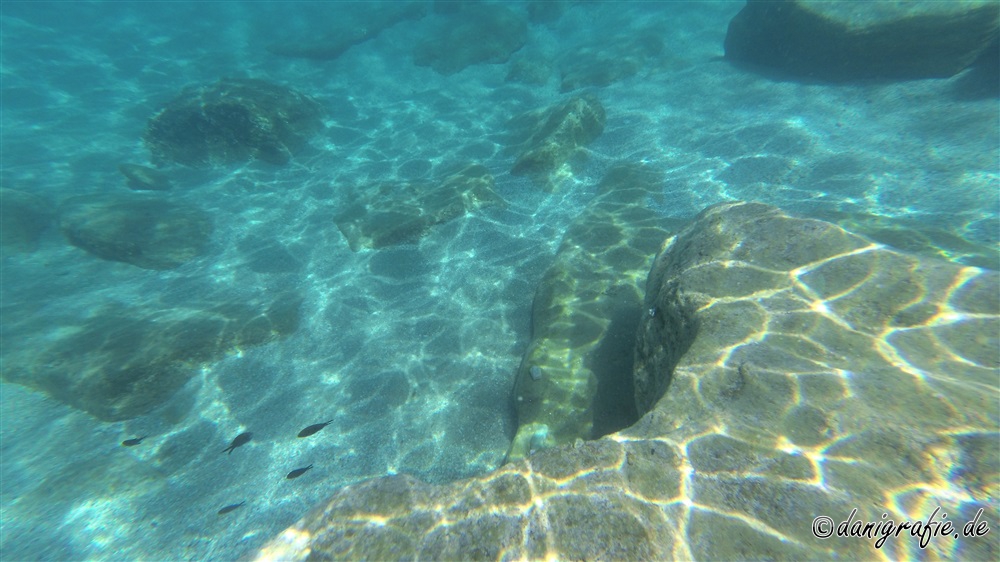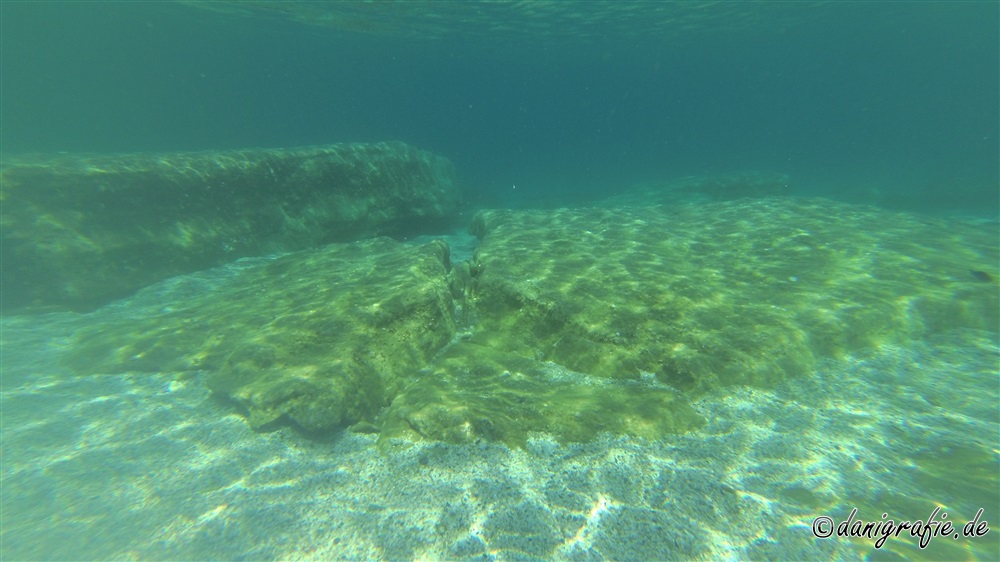 I had also made a few videos, but I still have to find the time and motivation to edit them. I have a suitable software for this in the meantime.
In the evening, the event started around 19:30. There were numerous classic specialties – just to my taste. I don't need to go to Greece for a schnitzel or any other standard meal. I can get that at home, too. On vacation, I prefer the typical cuisine of the country whenever possible. In this case, of course, gyros, fish and seafood, among other things.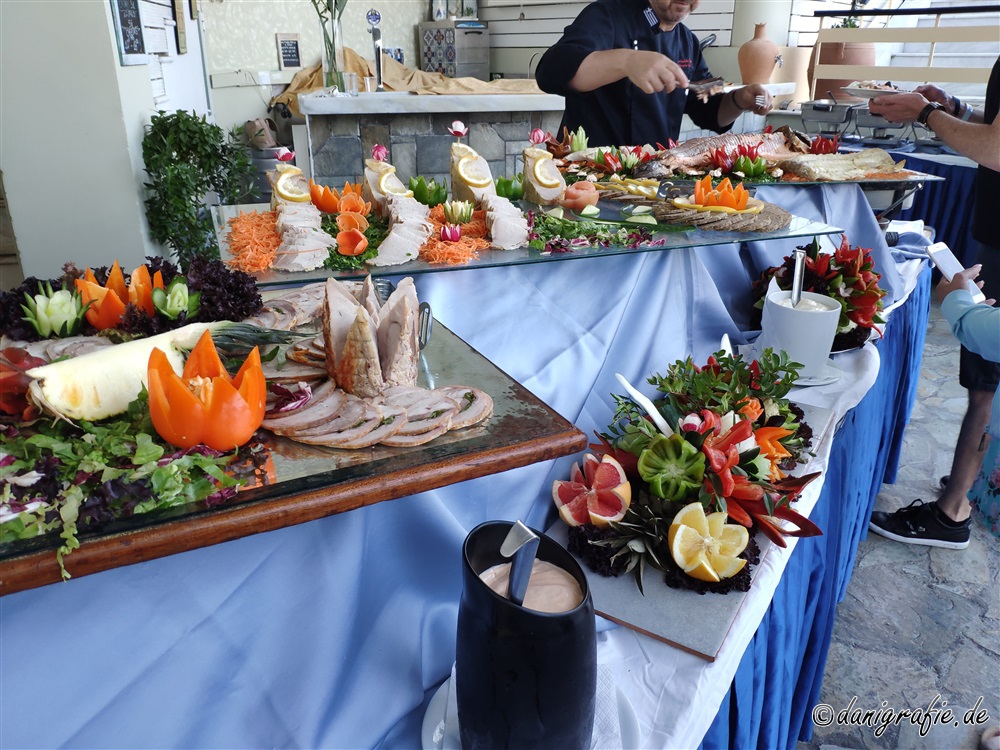 Day 5: Cozy Tuesday – Tuesday, 04.06.

Who would have guessed – on this day there was nothing really worth mentioning. Apart from food and the beach, there wasn't much else. Only the fact that we wrote and sent our postcards on this day was the only highlight of the day worth mentioning. Since we had planned a trip to Heraklion for the next day, we went to bed a little earlier than usual 😉
Day 6: Day Trip to Heraklion – Wednesday, 05.06.

With the second bus at 9:30 we drove from our hotel to Heraklion. We had already informed ourselves a little in advance in our travel guide. But since we did not know exactly where the bus finally arrives, we let ourselves be surprised. For cheap 3,90€ per person we arrived about 30min later in the middle of the old town of Heraklion.
More or less haphazardly, we then set off on our own. After a short time we found a "City Express". Meanwhile, it was already shortly before noon and due to the cloudless sky it was already relatively hot. Without further ado, we bought a day ticket for this tour and let us drive through the old town of Heraklion.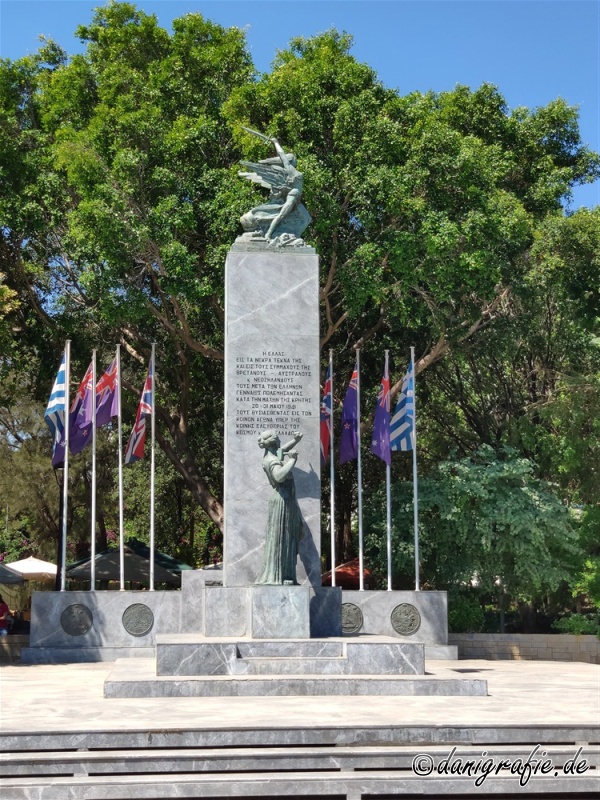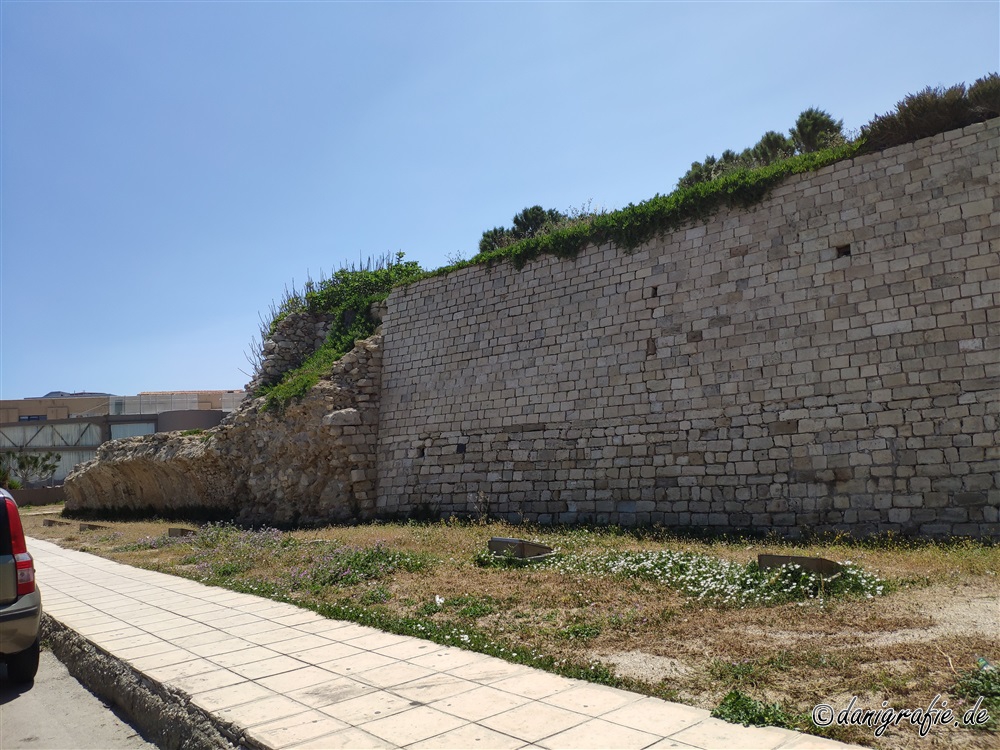 The actual plan was to pick interesting destinations on the first trip. On the second trip, we would have gotten off at a suitable stop. Unfortunately, however, we were a little pressed for time, since our bus back to the hotel already left at 17:30 and a round with the "City Express" took just under 1h. Directly at the port we got off and walked a shopping arcade in the direction of the historic old town.
Gradually the hunger drove. Fortunately, restaurants directly at the port were not far away and we settled down in one of the numerous restaurants. Well fortified, we then continued our discovery tour. As with almost every vacation, the order list for souvenirs was almost endless. How good that we were in the middle of a shopping mall. 😀

Remains of the city wall integrated into the cityscape.
Exhausted by the southern European heat and the hours of walking through Heraklion, we then found ourselves back at the bus station to begin the relaxing return trip to the hotel. Surprisingly, the return trip took over 1h, whereas we were in Heraklion after 20min on the outward journey. It was a bit strange that the bus stopped at some remote hotels, which we didn't stop at on the way back. But so we could at least relax and explore unknown areas before the day ended for us.
Day 7: Extensive beach day – Thursday, 07/06

Our last full day of vacation we have again really enjoyed and let us go well in the Greek sun. After sunbathing and dinner we went out again to take some night photos.
Day 8: Stressful return flight – Friday, 07.06.

The plan was: get up at 6:30, have a relaxed breakfast from 7:00, finish packing comfortably and take the transfer bus to the airport at 7:50. As far as the plan….
The reality was a little different: Wake up at 7:40 horrified and realize that in 10min the bus for the trip to the airport comes and you – for whatever reason – the alarm clock at 6:30 not heard. So fast we never had our 7 things together. How good that we had already packed the suitcase the evening before as far as possible ready.
Totally sleepy and without breakfast we started the winding drive to Heraklion airport. On this ride the body control was put to a hard test. The sporty driving style of the bus driver on the narrow and poorly constructed serpentines was not the best combination with an empty stomach. Back on solid ground, all we had to do was check in our luggage and then head to the gate to wait for boarding.

Waiting area in the terminal of Heraklion Airport.
A final look at the airport before we taxied onto the runway for our flight back to Salzburg.

Salzburg from above with the airport in the foreground.
At shortly before 12:00 our Airbus touched down on the freshly asphalted runway.
To make matters worse, I then discovered at baggage claim that my suitcase was irreparably damaged. Now I have to wait for the airline to settle the damage. And that can take time….
Final I can say that I really enjoyed the vacation. Normally, we go on various excursions on vacation to get to know the region better. Since we deliberately chose a hotel vacation this time, the cultural aspect was a little lost. For us it was an interesting experience – but a pure hotel vacation with all-inclusive is out of the question for us. You are simply too tied to your hotel. Sure, you could take a rental car. But then I have to take care of my own meals, even though I would have already covered them with my all-inclusive service. So you pay twice. In addition, one is bound to the buffet times. I don't have all that with half-board or overnight stay only – you are much more flexible. Our September vacation is in any case again a classic self-catering vacation.