Schafberg in the Salzkammergut (Austria), 20.08.2016
One of a long time planned destination has been put into pracitce upteen years:
Taking the cog railway "Schafbergbahn" uphill the Schafberg to its top station.
Quick information
The "Schafbergbahn" has been officially taken into operation on August 01, 1893.
The major work is done by 4 oil-fired steam engines which are crossing an altitude difference of 1,190m by cog railway.
While peak seasons, they have 2 additional DMUs (diesel multiple units) as well as 2 diesel-electric locomotives.
Once in a while 2 original trains are running by a special nostalgia timetable.
The total track lenght is 5.85km.
Fortunately the weather on this day was sunny and nearly cloudless.
Short time later we arrived at the valley station of the "Schafbergbahn" at 542m A. A.
If you want to skip the blog and just want to see pictures, click here.
While the train journey you can get several chances to see down the Wolfgangsee – in case of getting a seat on the right side on the window. 🙁
The train tooks – including refilling the water – approx. 40mins to the top station "Schafbergspitze" on 1,732m A. A.
Arriving at the top of the mountain was a great view over the "Salzkammergut" – even it was a little bit hazy.

one of the first units at shunting on the track downwards.

View to the Wolfgangsee as well as the Salzkammergut mountains.

As the top station is not the highest point, we walked upwards to enjoy the best possible view.
Reaching the mountain's top at 1,782m A. A. we have had a great panorama view.
Under perfect conditions you could see 13 lakes.
Fuschlsee, Attersee, Mondsee and the Wolfgangsee are only the well-known of them.

Mondsee (left) and Attersee (right)
The heaven's gate
Around 100m away of the alpine hut "Schutzhütte Himmelspforte" which is now a restaurant, is a stone portal – the so-called "Himmelspforte" ('heaven's gate').
From this portal a via ferrata starts downwards to Eisenau.
Alpine expert knowledge as well as solid footwear is absolutely necessary!
This via ferrata is not for greenhorns!

Alpine hut"Himmelspforte" ('heaven's gate')


The 'heaven's gate – beginning or ending of the via ferrata


View on the via ferrata to Eisenau – right after the heaven's gate
Of course, photos of Schafbergbahn may not be missing. 😀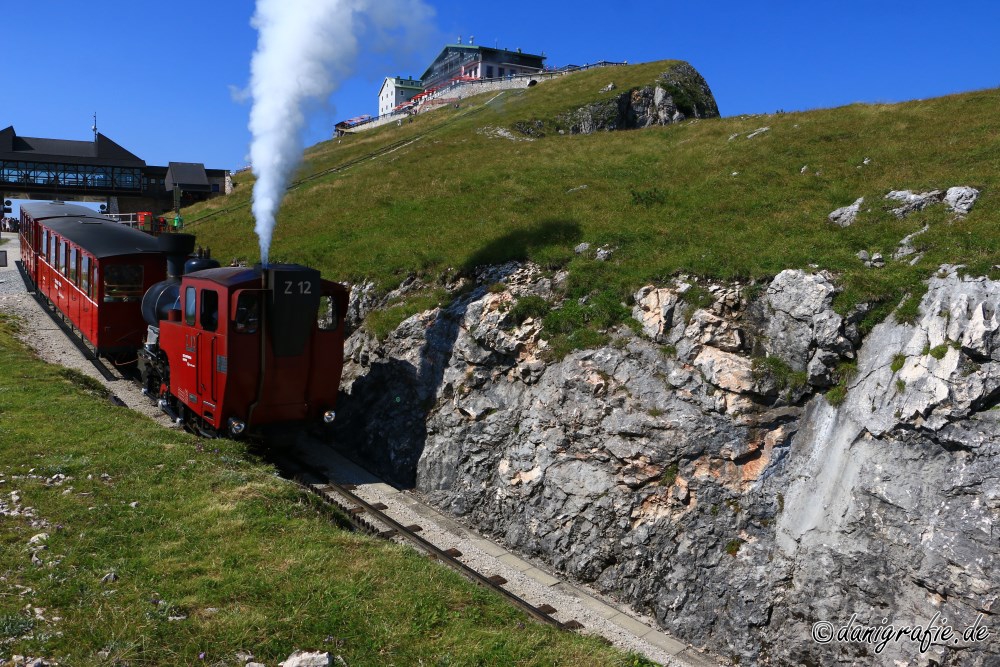 One of the units on the way back to the valley and took leave with a powerful whistle. 😀

Supply track for the restaurant
Around 4hrs after arriving the top station we took the train downwards to the valley.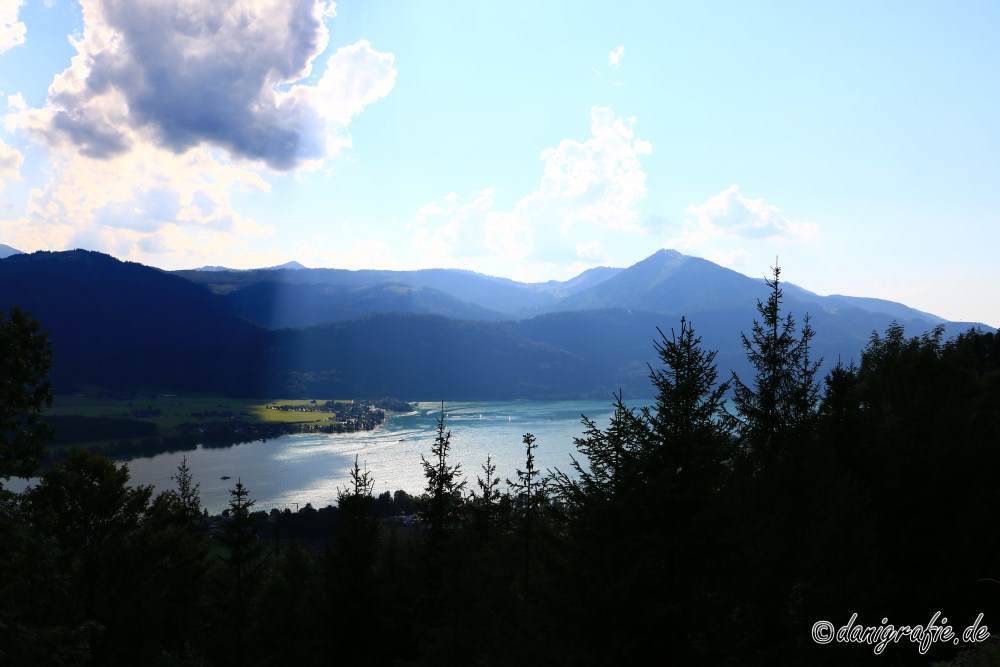 Clouds are moving above the Wolfgangsee