Husky sledding races in Inzell, 04.02.2018
After a longer blog break on the penultimate Sunday there was the opportunity to watch the sled dog race in Inzell.
To be on the safe side I had packed the drone.
Unfortunately it was not used. 🙁
The event started already on Friday with the Longtrail (30km) and Saturday with the middle distance races over 23km.
For Sunday there were Skijöring, Pulka, middle distance races and Tour on the schedule.
We already went to Inzell early.
So we could have a look around on the Stakeout (pit lane).

One pensioner in the round with 13 years (corresponds to about 93 dog years). Of course he didn't go to the start anymore.
According to the owners, most of the dogs were already looking forward to the start.
At the start were the breeds Siberian Husky, Alaskan Malamute, Greenland Dog, Samojede and the Alaskan Husky.
Here you can find all my photos from this morning in the start area.
Actually, I had hoped to find a route map to possibly get a different scenery.
But unfortunately I couldn't find an exact route plan, so we had found ourselves in the starting area.
Unfortunately we were not very lucky with the weather, because the sun was hiding behind the fog.
Nevertheless, at the beginning we positioned ourselves in the starting area in order to get an ideal view of the starters from there.

One musher (sled dog driver) with several sled dogs
In a classic dog sled with several dogs, the strongest dogs are stretched directly onto the sled.
They must apply the greatest force at the start in order to set the sled in motion.
Then the other dogs also start to move and pull the sled with them.

short before a small mountain climb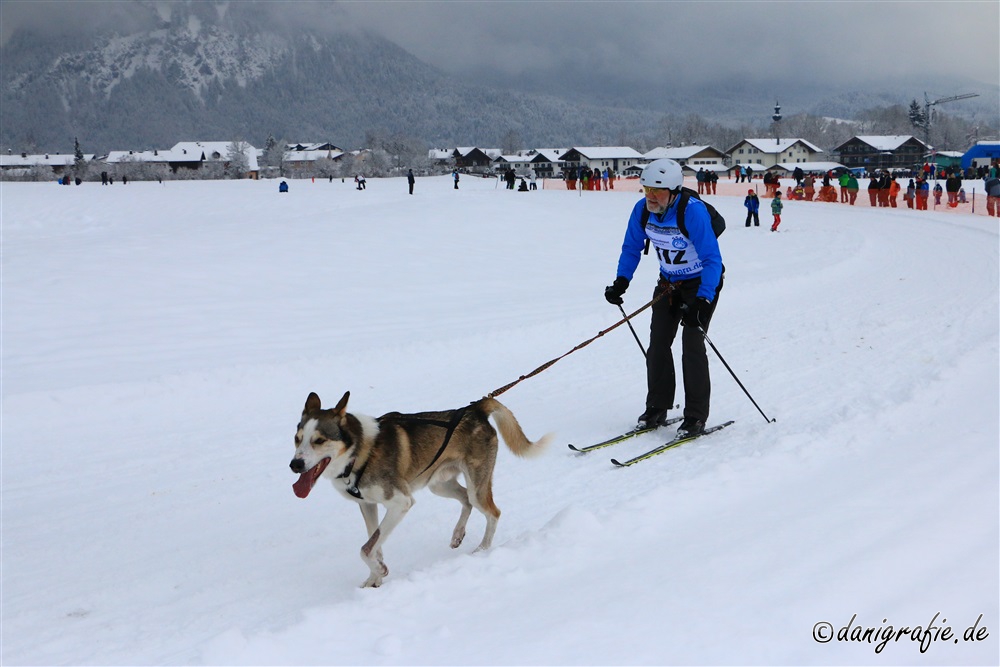 In skijoring 1-3 dogs are usually sufficient, as they only have to pull the skier.
Unlike the Pulka, there is no additional sled here, which can quickly weigh 150kg – without Musher -.
At the end there is a photo of a Pulka team in front of the foggy mountain scenery in Inzell, before we went half frozen on the way home.