Extended weekend in Caorle from 20. to 24.12.2019
Anyone can go to Italy in the summer – we were thinking of spending a few days there before Christmas.
Therefore, we decided to spend a long weekend in Caorle. The idea was already born on our day trip in September. There we had already seen advertising posters for the "Caorle Wonderland" in December.
What do you do in Italy in winter? Well, on the one hand, as mentioned before: "Anyone can do Italy in summer". In addition, we could get to know the "real" Caorle – without tourists, but with the Caorlesen. We were also hoping for snow.
To be able to use the short holiday as effectively as possible, we left right after work on Friday. Unfortunately, we had a long traffic jam on the motorway in Salzburg right at the beginning. Shortly before Villach, rain and wind made the otherwise undisturbed journey even more difficult. Shortly after leaving the Alps at Lago di Cavazzo, we were joined by dense fog. We arrived at our accommodation in Caorle shortly after 8 pm, much later than estimated.

Caorle Wonderland
Unfortunately, this day continued what had already accompanied us on Friday evening: rain and wind.
For this reason, the stalls and shops in Wonderland were not open. Nevertheless, there were short breaks in the rain, during which we ventured outside and had a look at Christmas in Caorle.

In daylight, the effects of the night's continuous rain and wind became visible:
The beach area, where tourists usually lie in summer and children play at the playground, had various remnants from the sea.

Even the breakwaters on the promenade could not resist the rough sea, so that a lot of driftwood was washed up.

In the evening, we took another stroll through the Christmas-decorated pedestrian zone.
Overnight, the weather had gone one better and caused even greater flooding.
For today, Sunday, we had actually planned to go to Venice. We had already found photos of impressively decorated buildings on the internet from previous years.
Regrettably, the persistent rainfall has resulted in another severe flood for Venice. Venice was already hit by flooding in November. We therefore had to change our travel plans without further ado and decided to visit Bibione.
Due to the persistently bad weather, the originally planned Christmas market in Bibione was cancelled and only a few outdoor stalls were open. However, the city had reacted quickly and organised a large tent the day before to allow at least a little Christmas atmosphere in the dry.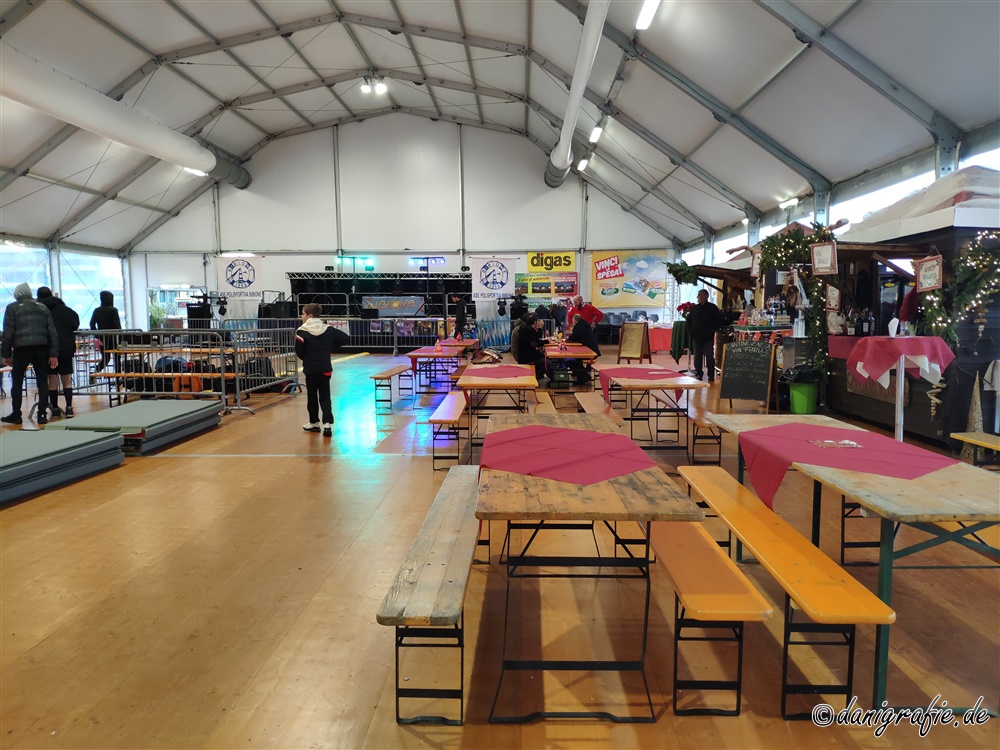 Today, Monday, promised to be better – and it was.
There was almost nothing left of the stormy days at the sea. Fortunately, the Caorle Wonderland was finally open on this day.
Besides the classic stalls with crepes, mulled wine, Christmas decorations, etc., there was also a "Ferris wheel". It was high enough to look over the roofs of Caorle.
Finally, we found a restaurant directly on the beach with an unobstructed view of the sea, where we waited for the sunset.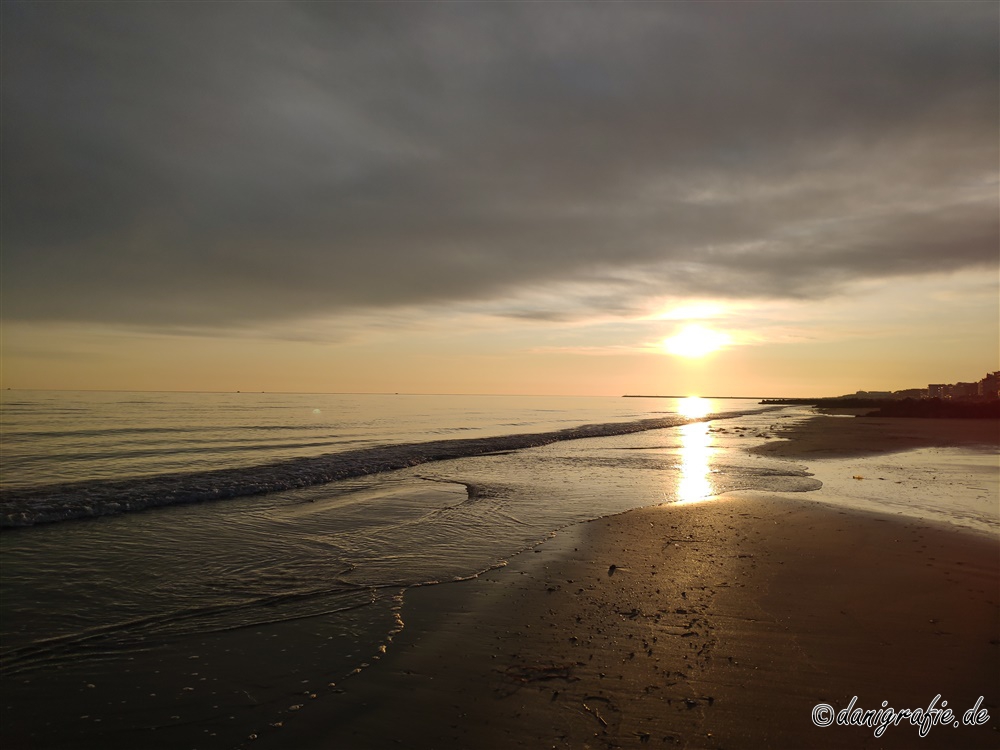 Of course, my girlfriend didn't miss the opportunity to order an Aperol Sprizz.
When we went to dinner in the evening, we were met by numerous Caorlesen dressed up. As we found out later, a kind of Christmas ball had been organised in the town hall that day.
Day 5: White Christmas – at least on the road – Tuesday, 24.12.

Unfortunately, we had to start our journey home early on Tuesday in order to get back to our families in time for Christmas.
During our stay in Caorle we had hoped for snow. However, due to the mild weather, only rain came from the sky.
As a small consolation, we at least had snow on the motorway and in the mountains in Carinthia, so that we at least had a brief white Christmas.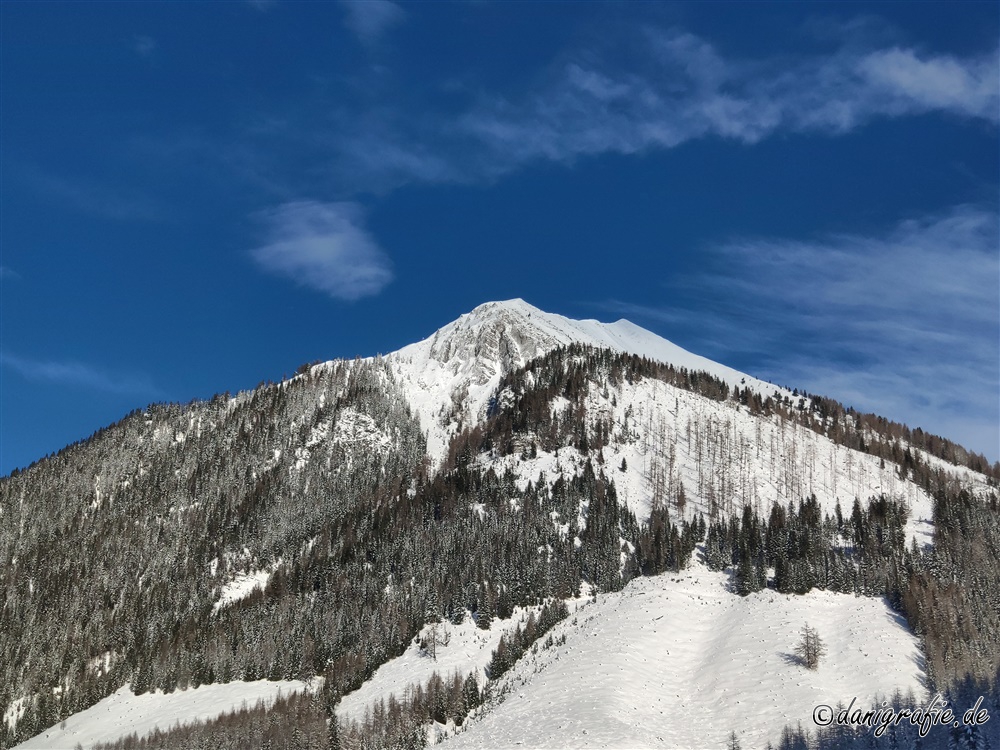 As a nice touch, ASFINAG had left Christmas greetings for car and truck drivers on some of its signal gantries.
Since it didn't work out with a white Christmas in Caorle in 2019, we wanted to try again in 2020.
However, everything turned out quite differently and our plans were dashed for the time being.